The Sharing the Journey series is by you and for you. In your own words, we highlight the perspectives and personal experiences of people who struggle with lupus each day.
This month, we asked Sharing the Journey participants the following question: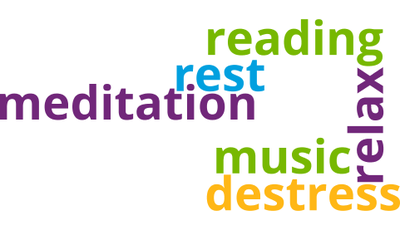 Constant feelings of fatigue and stress brought on by lupus and the ongoing pandemic can wreak havoc on your body and mind. What are some ways you de-stress and relax after a long day?
I find carving out relaxation time for myself and away from people is vital to keeping my physical and mental health in balance. I used to think of time with others as my relaxation and de-stress time, but I realized even that drained energy from me as I worked to keep up conversations and enjoy activities. At the end of a physically and mentally demanding day, I usually sit in my bed or on the couch, enjoy a favorite (not too unhealthy) snack, nurse whatever physical injury I'm battling (because – let's be real – with lupus something always hurts), and watch a favorite TV show. I also make sure to keep an eye on the time so I don't stay up too late and start the next day even more exhausted and fatigued. This is my way to separate and practice self-care and it has done wonders for my energy, relationships, and overall wellbeing! – Becca
One way I try to fight fatigue and relax is by trying to get a power nap in during my lunch break since I'm working from home. I try to meal prep for the week or order delivery because I'm already fatigued and cooking can add additional stress to my body after work. I also like to soak in a warm bath with Epsom salt, baking soda and peppermint oil which helps me to de-stress and get a better night's sleep. When I am feeling well, baking and decorating cakes, cupcakes, and cookies really helps me to relax and de-stress. – Jaime
There is definitely fatigue and stress associated with lupus. One of the ways I de-stress is by listening to soft music with my eyes closed. It takes me to a peaceful and calm space. I have been so calm that I have felt the stress leave my body. In addition, I write letters to myself in my journal. Then, when I'm feeling stressed, I will read a letter and somehow it helps me be in tranquility. I find creative ways to de-stress and walking always helps me. The more I quiet myself down, shut out the noise, and just enjoy hearing my breaths and heartbeat, I find solace. – Sylvia Ann
For me, I relax by crafting, reading a book, watching a tv show, or taking a walk outside with my husband. The stress of the pandemic and chronic illness has made self-care even more important. While I might be doing less, I need to do more self-care. – Leslie
After a long day, I de-stress and relax by sitting outside after it cools down and away from the sun. I also like to take a warm shower or bath and listen to uplifting music, or read inspiring quotes or a good book. I try to not watch any news, and instead watch TV shows that will get my mind off of any pain or discomfort I may be experiencing. Lastly, I also like to join Zoom bible study sessions, support groups, and call a family or friend to laugh with someone. – Yvette
I take a walk and ride my bicycle in order to destress. – LaTrease
After a long day or week, I usually go home and take a hot shower. I make myself chai tea and I listen to soft instrumental music. – Kyra
After a long day, meditation really helps. If you go to YouTube there are many meditative calming playlists you can play to help you relax. Also, taking a warm bath always seems to help by calming all your muscles and clearing your mind. – Angel
Most evenings I de-stress by reading a book, practicing yoga or soaking in a nice hot bath while listening to podcasts. – Kayla

This post was originally published on this site